地中海极简的家是VH设计事务所为都市女性设计的度假居所。
The Mediterranean Minimalist Home is designed by Vivienne Han Design (VH) as a holiday home for an urban lady.

原有户型是同层两套分别为60平米的小户型公寓。
The original floor layout was composed of two 60 square meter individual apartment units on the same floor.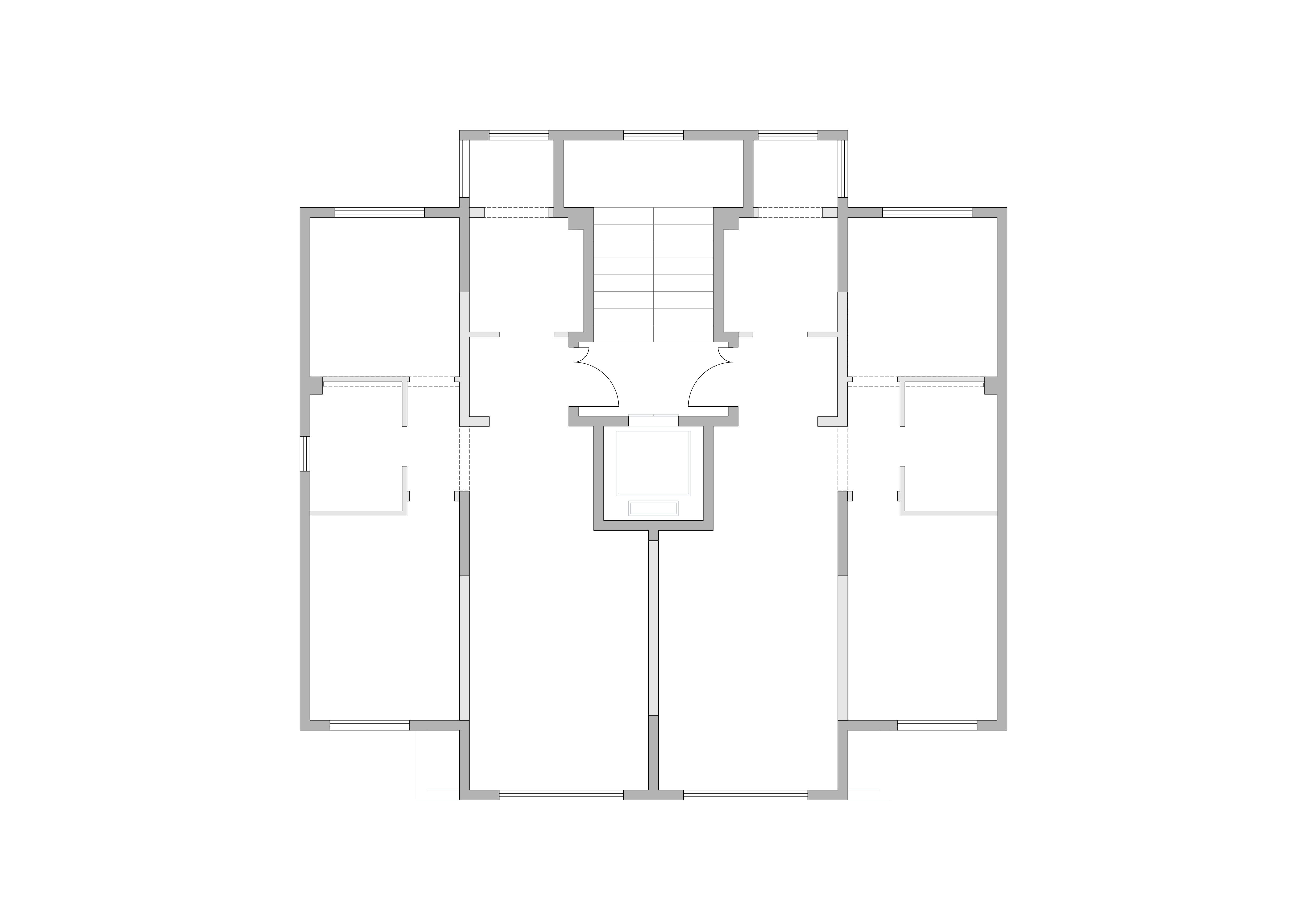 设计打通了包括户间隔墙的所有非承重隔断,各功能区的划分采用隐藏在墙内的推拉隔断。
The design takes away all non-load-bearing partitions, including the unit-division, using oversize sliding panels that can be hidden into the wall pockets to make space division.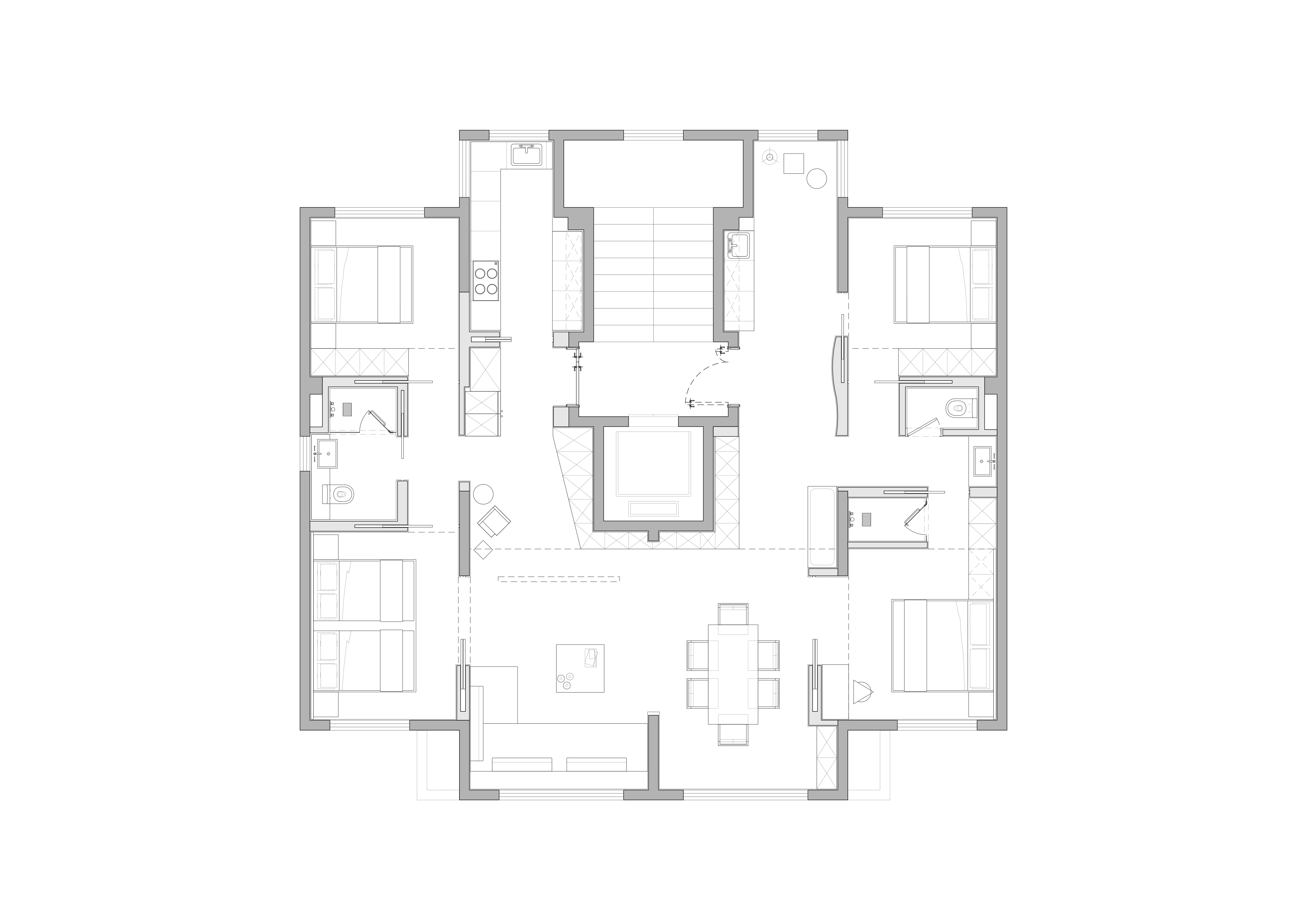 光从各个方向流入空间当中,使原本封闭狭小的空间开阔流通。
Light flows into the space from all directions, in contrast with the originally enclosed and narrow interior space.
设计的审美意趣借鉴日式的侘寂(Wabi Sabi)风格,讲求空间的流动以及不对称的动态平衡之美。亦以沉浸自然的姿态,展现原始材料的丰富纹理。
The aesthetic of the design learns from the Japanese Wabi Sabi style, emphasizing the flow of space and the beauty of asymmetrical, dynamic balance. It also shows the rich texture of the original material in an immersive natural setting.
以传承西班牙工匠手艺的大地色灰泥漆及微水泥烘托整屋的氛围,搭配具有鲜明个性的极简设计师款家具。细腻的质感,自然雕刻的纹理,亦如诉说着女性丰富而坚韧的内心世界。
The atmosphere of the apartment is set up with earth tone stucco and micro cement inherited from Spanish craftsmen, along with designer furniture with minimalist look and distinctive personality. The delicate and naturally carved texture also describes the fine and resilient personality of the client.
在公寓的玄关处,VH定制了独特的立体纹理墙,吊顶的镜面反射使其高阔巍峨,仿佛经风雕蚀过的砂岩的山壁。纹理墙采用计算机数控预置的GRG打底,面饰手工涂刷的粗颗粒感灰泥。项目突出了VH设计事务所一贯的设计理念:致力于研究探索数字化设计与传统材料间的建构与融合,以及材料韵律产生的审美。
At the entrance of the apartment, VH customized a unique three-dimensional texture wall, and the mirror ceiling doubles the height of the wall to make it look grand, like the surface of a sandstone mountain carved by the wind. The base of the texture wall is made of prefabricated GRG panels assembled on site, and the stucco finish is painted by hand. It highlights VH 's design approach– to explore the possibilities of integrating digital design with traditional materials, as well as the beauty formed by material patterns.
VH亦为室内场景打造了独特的定制化家具。比如"乐高"梳妆台以及波斯白玉的方形茶几。不论是定制还是选择搭配的家具,重视时尚个性的展现以及材质本身天然纹理的温度和表达。
VH also customized unique furniture for interior scenes, for example the "Lego" dresser and the square coffee table made of a special marble called "Persian White Jade". Whether customized or selected, each furniture in this project displays unique personality and expresses natural texture and warmth of its materials.
Main Information:

Project Name: Mediterranean Minimalist Home (地中海极简的家)
Office Name: VIVIENNE HAN(VH) DESIGN (VH 设计事务所)
Office Website: www.viviennehandesign.com
Contact email: info@viviennehandesign.com
Firm Location: Beijing, China 中国北京
–
Completion Year:2023
Gross Built Area (m2/ ft2):120 m2
Project Location: Heilongjiang, China (中国黑龙江)
Program / Use / Building Function: Residential Interior (住宅室内)
–
Lead Architects: Vivienne Jing HAN
Lead Architects e-mail: vivienne.jing.han@qq.com
Photographer
Photo Credits: Topia Commercial Photography (TOPIA图派视觉)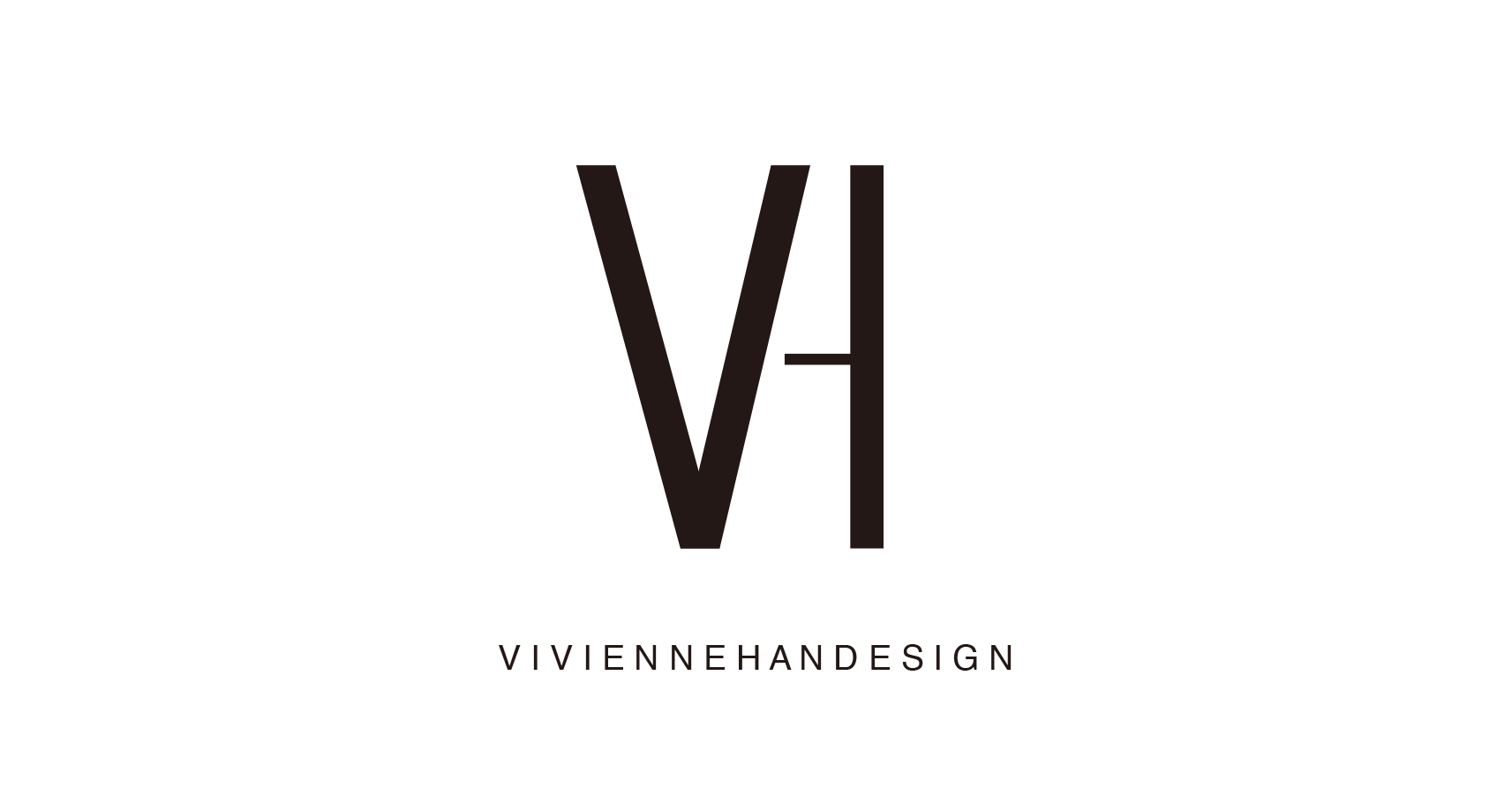 Vivienne Han Design(VH) 设计事务所于2020年12月创立,致力于个性化定制设计。其作品涵盖建筑设计、室内设计、家具定制及品牌策划。设计风格倾向前卫科技与传统材料的对话,以回归本源的态度展望未来,以人的需求、尺度感、行为观为出发点,提出细腻、人性化、且具有前瞻性的解决方案。创始人Vivienne Jing Han有着十余年全球从业经验,注重细节与品质的落成。事务所管理形式以学徒制为根基,本着育人如材的理念,希望唤起年轻建筑师对建筑工艺本源的热爱和对细节品质的追求。
Established in 2020, Vivienne Han Design (VH) endeavored to create unique, personalized design. Its portfolio includes architecture, interior, furniture and brand design.The design inclination is to revive traditional materials and construction methods with BIM and CAM tools to enhance humanity, quality and precision. The founder, Vivienne Jing Han, has over 10 years of global work experience, excellent in realizing projects in fine details.The organization of the studio resembles that of an apprenticeship tradition, to train young people to dedicate themselves to traditional crafts, materials and details.