静|沐浴|感知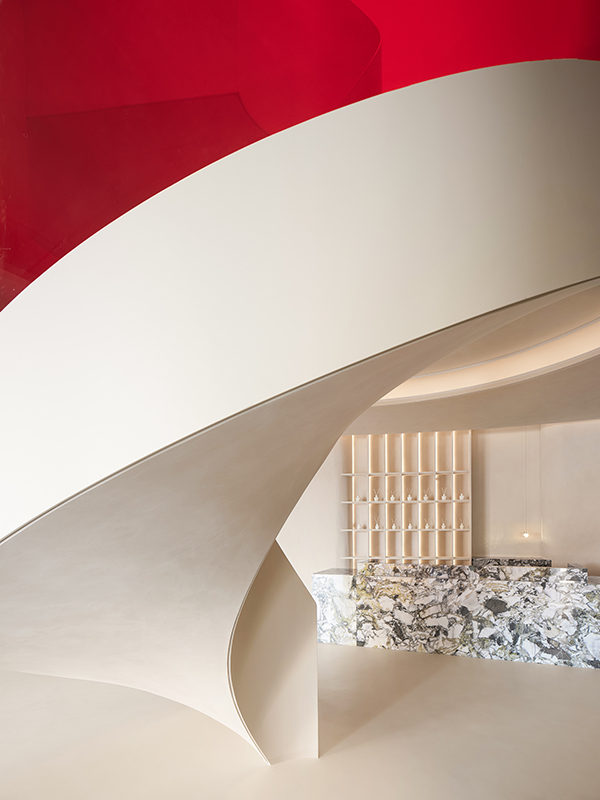 Agape宁波集成展厅的设计,是意式产品哲学和当代人文美学在室内空间中的重新演绎。
The design of Agape Ningbo Integrated Exhibition Hall reflects a new interpretation of Italian product philosophy and contemporary humanistic aesthetics in the indoor space.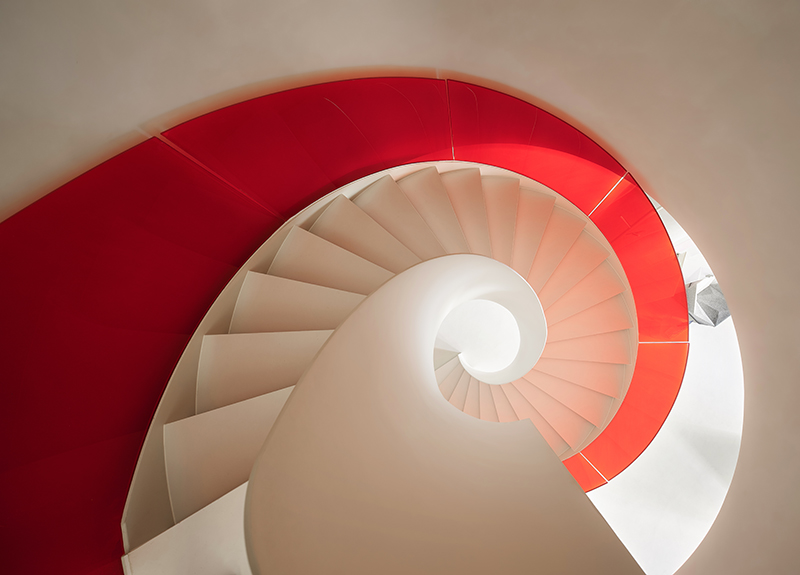 Agape是意大利顶级卫浴品牌,其将生活和艺术通过哲学方法相融合使浴室成为家庭情感的中心。一直以来Agape的产品总是以独特的气韵及难以超越的创新设计传承着这一理念。
As one of Italy's top sanitaryware brands, Agape uses philosophical approaches to achieve the integration of life and art, making the bathroom the center of family emotion. Agape's products have always inherited this concept with unique charm and innovative design that is hard to beat.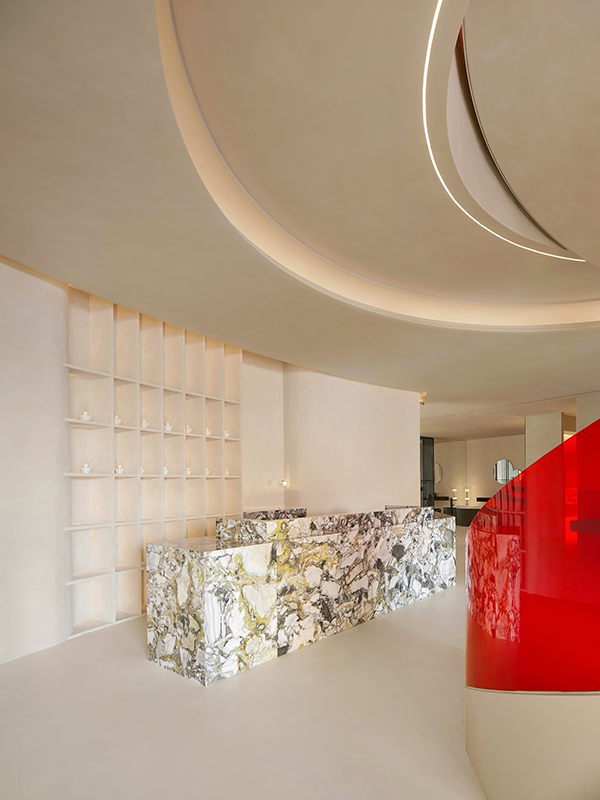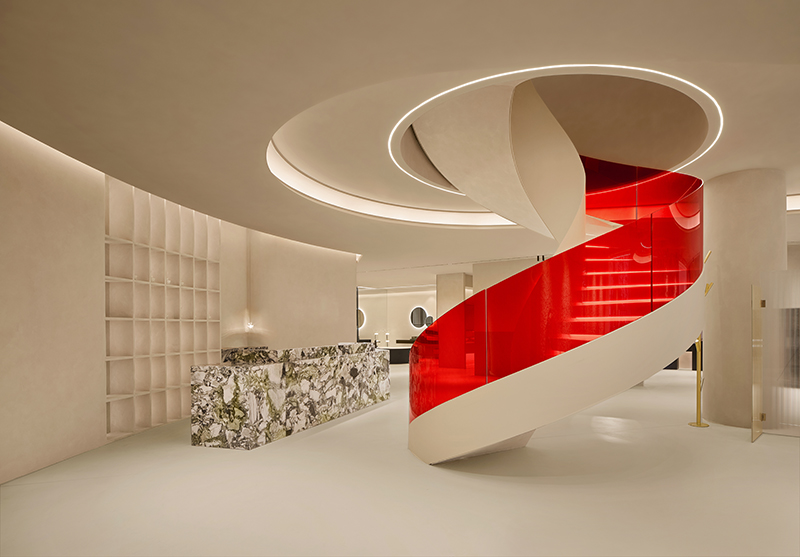 本案的甲方作为宁波知名的卫浴建材经营者,在获得Agape经营代理权之后,迫切希望以此统领整合自身资源,以提升展厅吸引力,客户邀约和签约率为目标,打造一个在宁波具有相当影响力和美誉度的全新体验式展厅。
After acquiring the dealership of Agape products, the party A of this project, as a well-known sanitaryware building materials dealer in Ningbo, is eager to take this opportunity to realize the integration of its own resources, enhance the attraction of the exhibition hall, improve customer invitation rate and contract signing rate, and create a brand-new experiential exhibition hall with considerable influence and reputation in Ningbo.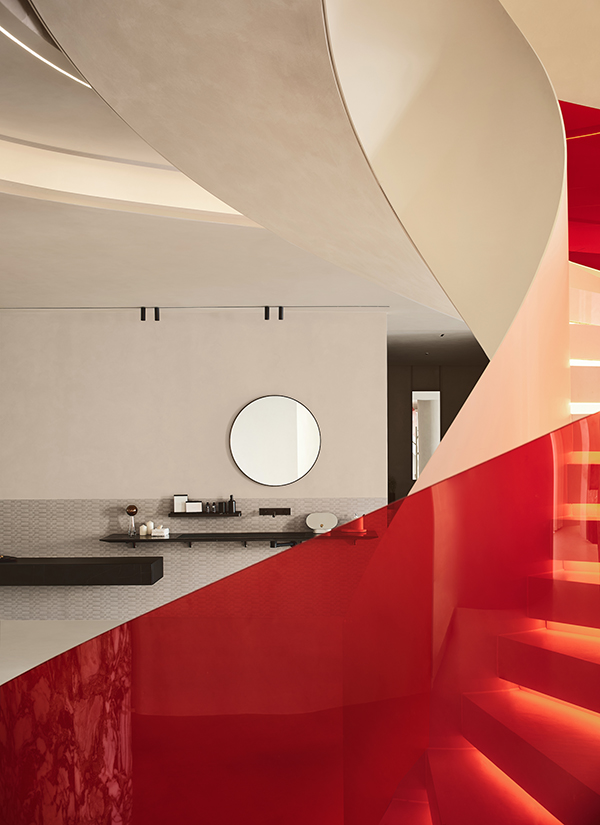 设计理念
Design concept
唐森林先生在接受Agape宁波展厅的设计邀请后,就在思考如何把产品和客户体验紧密地联系在一起,创作一个打破传统卫浴展厅概念的全新展示模型。他非常喜欢Agape品牌"Sen系列"产品"消失的艺术"(通过将所有功能组合到一个形状中,对象变得更坚固但消失了),这与东方的"留白"手法不谋而合。于是展厅的设计便由此开始。
After accepting the design invitation of Agape Ningbo Integrated Exhibition Hall, Mr. Tang Senlin began to think about how to connect products and customer experience closely together to create a new display model that breaks the traditional concept of sanitaryware exhibition hall. He is a big admirer of the "Art of Disappearing" presented by Agape's Sen collection (by combining all the functions into one shape, the objects are made more solid and seem to disappear, but they are actually well integrated), which coincides with the "blank space" technique of Oriental aesthetics. As a result, the design of the exhibition hall begins from here.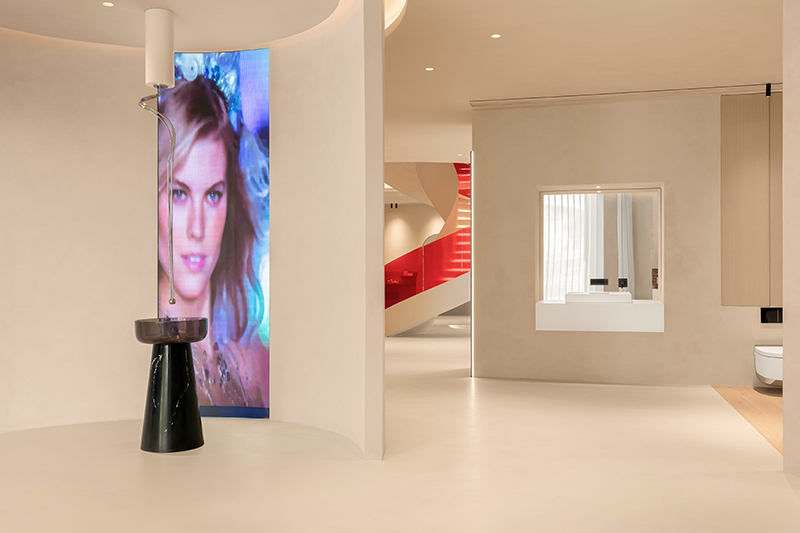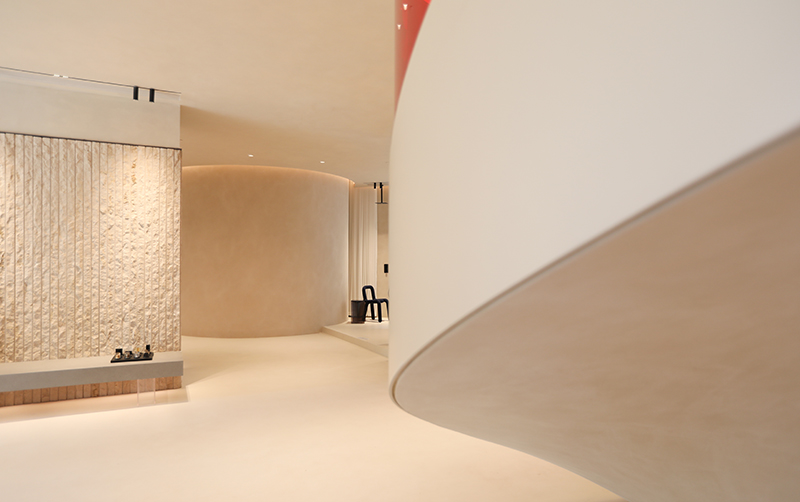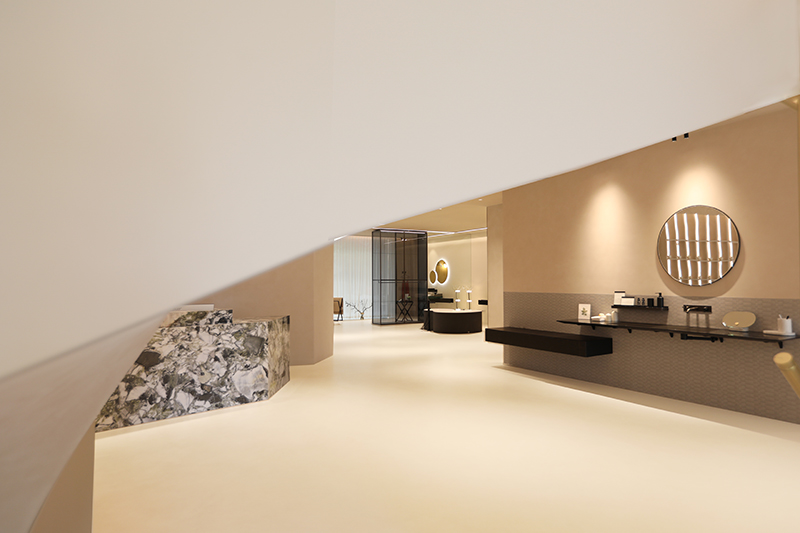 因此展厅的设计思路并不是从单纯的商业产品展示出发,而是从人文美学精神的角度出发,将其作为一个卫浴艺术馆来打造。设计师的意图是:让人们在宁静中感知空间的力量,能够静下心放松下来,与产品进行深层次对话,并在品味的过程中对生活产生新的憧憬。
Therefore, the design idea of the exhibition hall does not simply focus on the display of commercial products, and the exhibition hall is built into a sanitaryware art gallery demonstrating humanistic aesthetic spirit. The designers' intention is to let people feel the power of space in peace to relax and have a deep dialogue with the products, and generate a new longing for life in the process of appreciation.
唐森林先生说:"和很多展厅相比,我们看似浪费了一些空间,但是我们提升了当下最为难得的空间记忆和空间体验。一般的商家可能会用多出50%的空间去陈列产品,但是我们觉得要舍弃才能得到。要懂得"留白"的艺术。你经常会见到一些商业空间中摆放了很多产品,但消费者逛完一圈,什么也没记住。而我们想用一个宁静,柔软,温馨的展厅告诉人们——卫浴卖场已经从曾经的产品堆砌,到发展成一个集空间记忆体验,放松休闲于一体的新展厅模式。
Mr. Tang Senlin said, "Compared with many other exhibition halls, our exhibition hall seems to waste some space, but the rarest memory and experience of space can be improved. Some people may use 50% more space to display their products, but we think it's better to leave some things out. We need to understand the art of "blank space". Some commercial spaces are often filled with products, but consumers walk around without remembering anything. We want to use a tranquil, soft and warm exhibition hall to tell people that the sanitaryware store has developed from a place where products were stacked into a new exhibition hall mode integrating spatial memory experience and recreational function."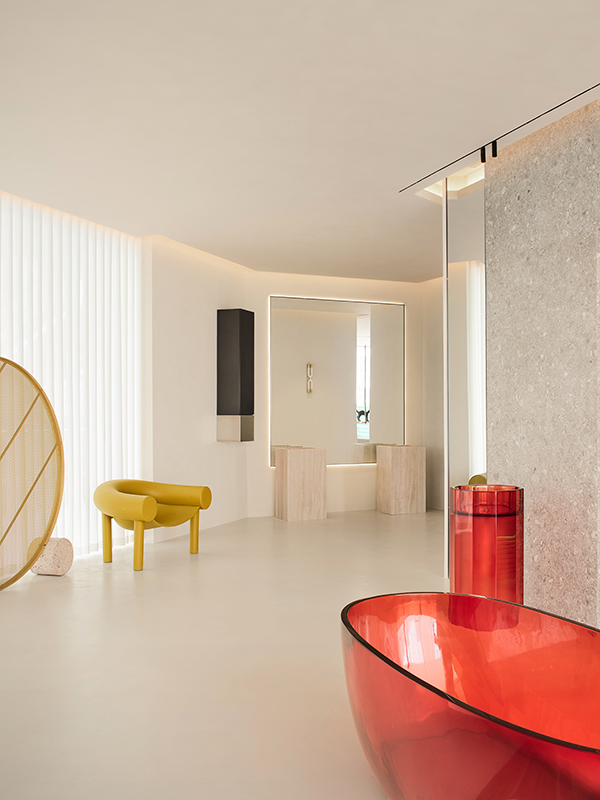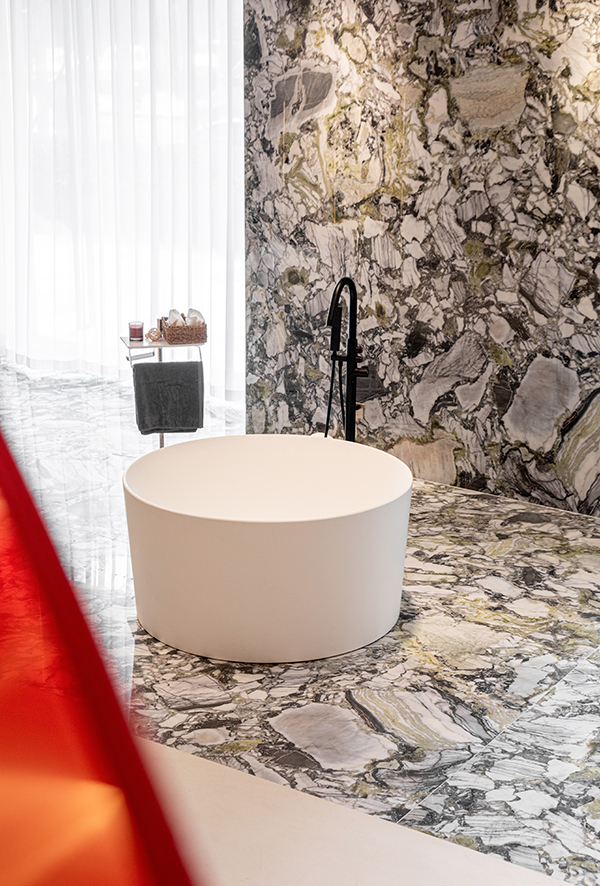 非常幸运的是,这个理念得到了业主的全力支持,这也为整个展厅的构建打下了至关重要的基础。
Fortunately, this concept is fully supported by the client, which provides a crucial foundation for the construction of the entire exhibition hall.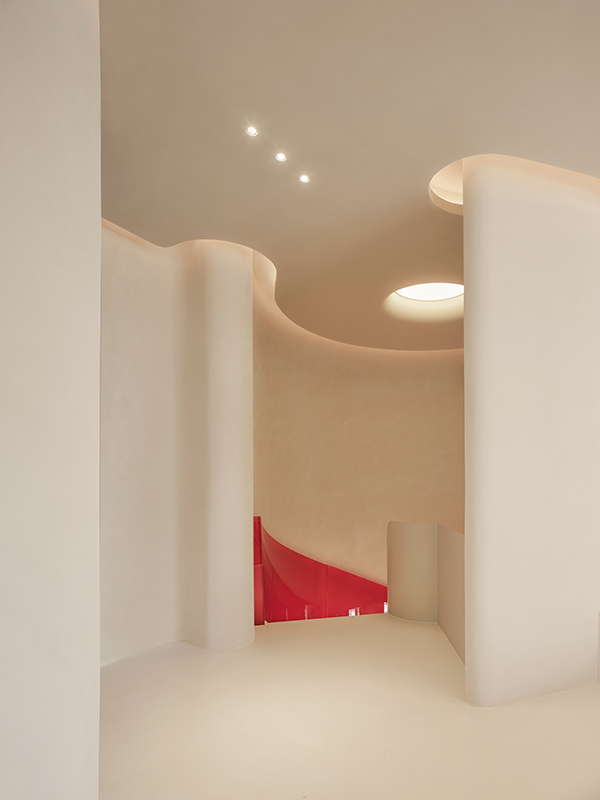 空间建构
Spatial construction
在空间建构的阶段,设计师发现展厅原结构有两个较大的问题:一是空间结构不规整,有很多柱子;二是橱窗和内部吊顶之间有较大高差。这就导致视野存在压迫感,会严重影响设计效果和空间体验感。
In the space construction stage, the designers find that there are two big problems in the original structure of the exhibition hall, specifically, the space structure is not orderly and there are many columns, and there is a large height difference between the window and the internal ceiling. This will lead to a sense of pressure on the vision, which will seriously affect the design effect and spatial experience.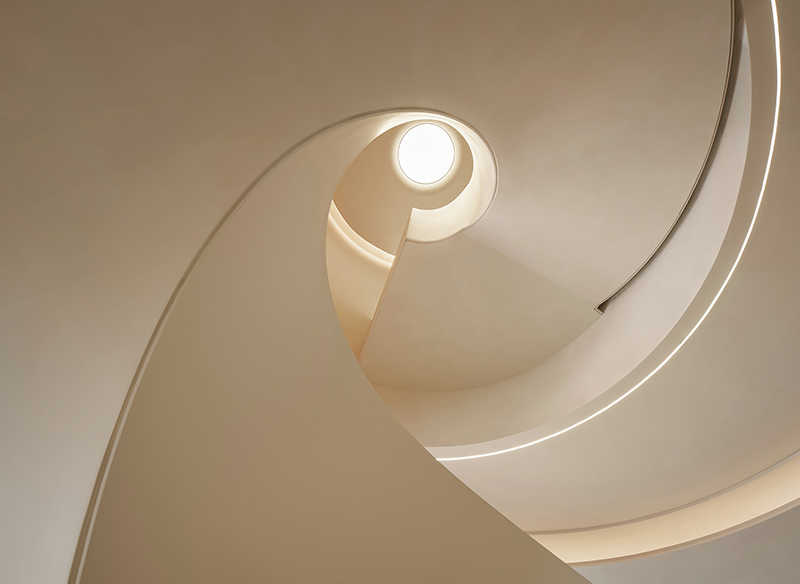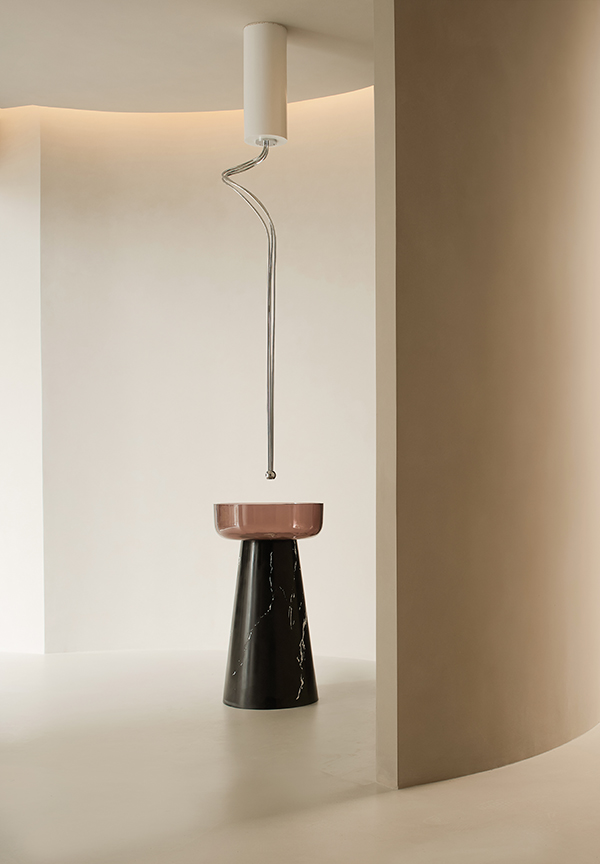 为此,设计师特别邀请结构工程师一起重新勘察建筑图纸,探讨可行性方案。利用大面积落地窗引入自然光,运用中国"卷轴画"式的开启方式将空间一点一点铺陈开来,徐徐打开娓娓道来。用隔墙隐藏柱体,用曲线柔化空间,当消费者进入展厅后,仿佛在欣赏一幅长卷卷轴画一样,将注意力聚焦在每一个独立的展示空间,并在移动过程中产生移步换景的效果。每一个空间独立又统一地串联在整个动线之上,不错过每一个细节,让产品展示与客户体验既美好又高效。 
Therefore, the designers specifically invite structural engineers to reexamine the architectural drawings and discuss the feasible plan. Large areas of floor-to-ceiling windows are adopted to bring in natural light, and the Chinese "scroll painting" style of opening mode allows the space to be spread out bit by bit, giving the impression that there are highlights everywhere. Partitions are used to hide the columns, curves are used to soften the space, and consumers entering the exhibition hall feel as if they are looking at a long scroll painting. Attention is focused on each individual display space, and the content is constantly changing as the visitors move. Each space is independently and uniformly connected to the whole moving line, and every detail is carefully treated, which together present a beautiful and efficient product display effect and customer experience.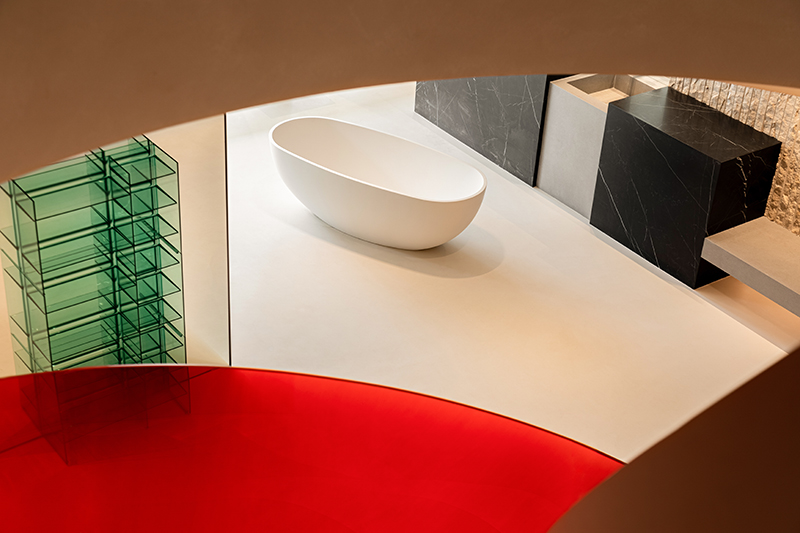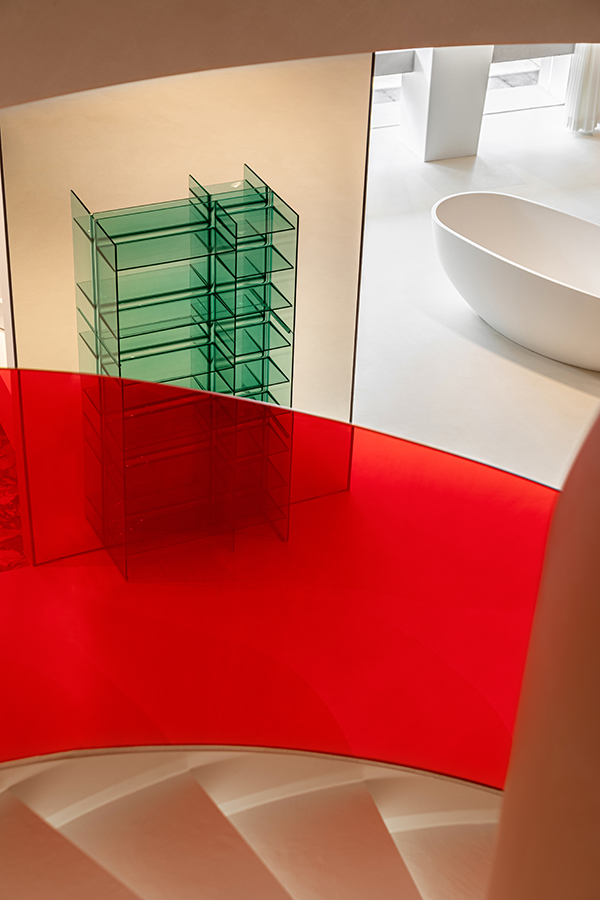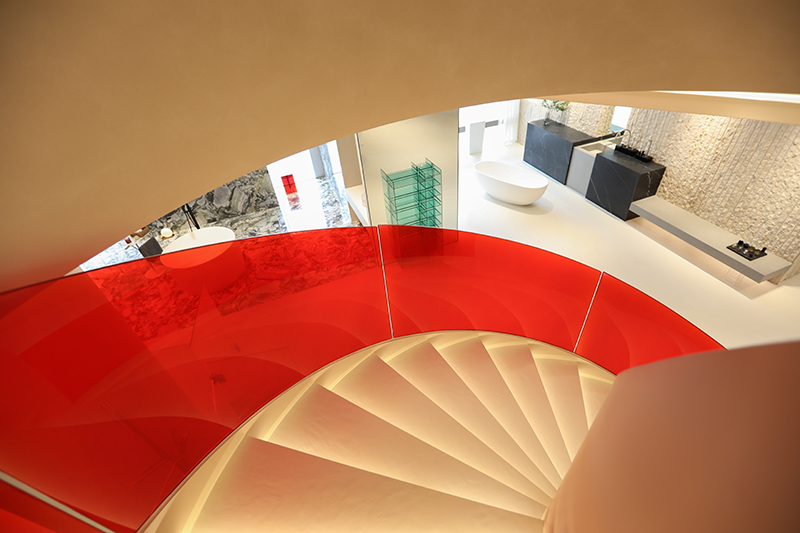 参观完一层的agape展厅感到意犹未尽之时,消费者正好踏入旋转楼梯的位置,拾级而上,随着楼梯的弧度再次环顾整个一层空间,从另一个角度将美好生活尽收眼底。
After visiting the first floor of the Agape exhibition hall, the enthusiastic consumers can then walk up the spiral staircase and take advantage of the curvature of the staircase to look around the whole space located on the first floor again, and enjoy the beautiful life from another angle.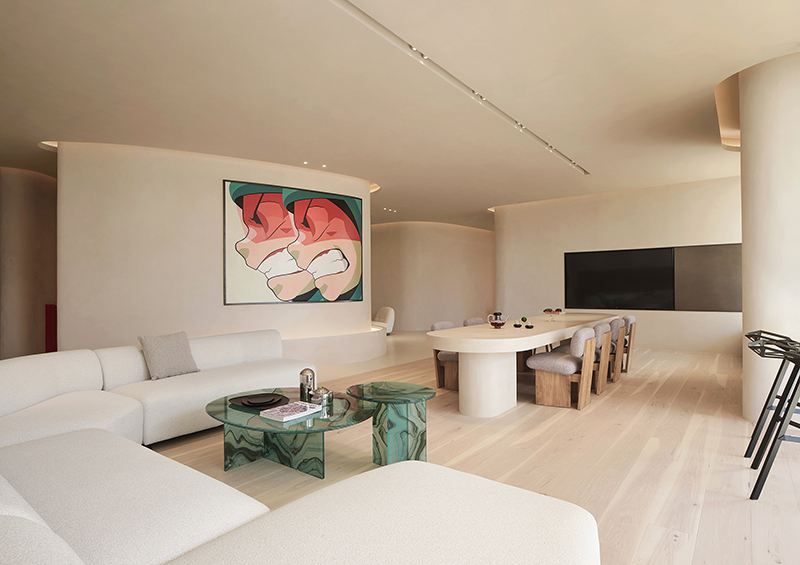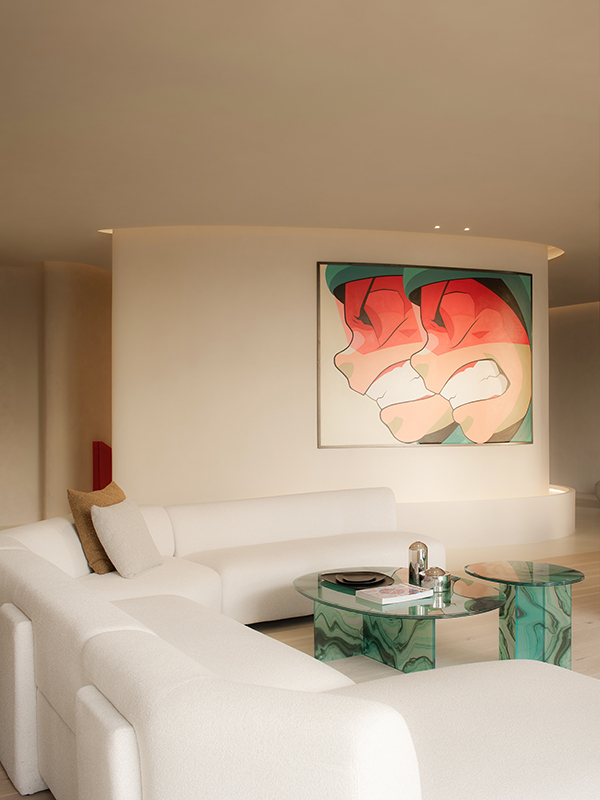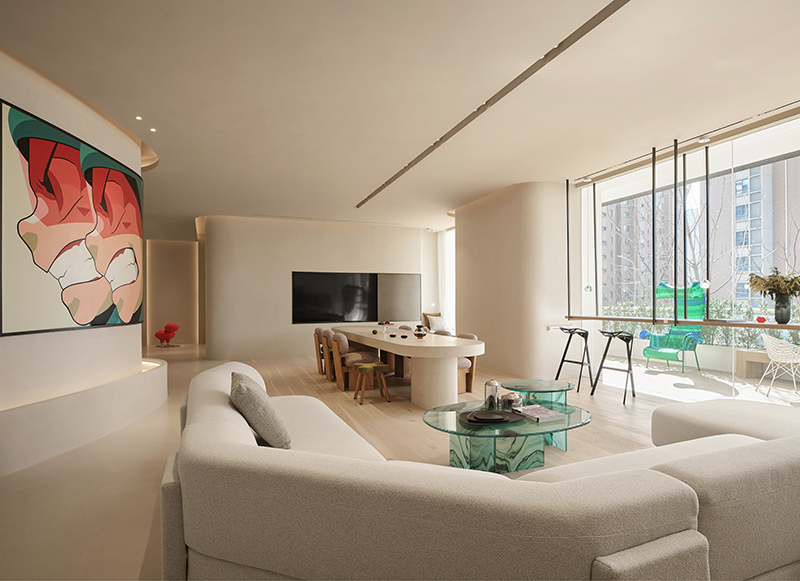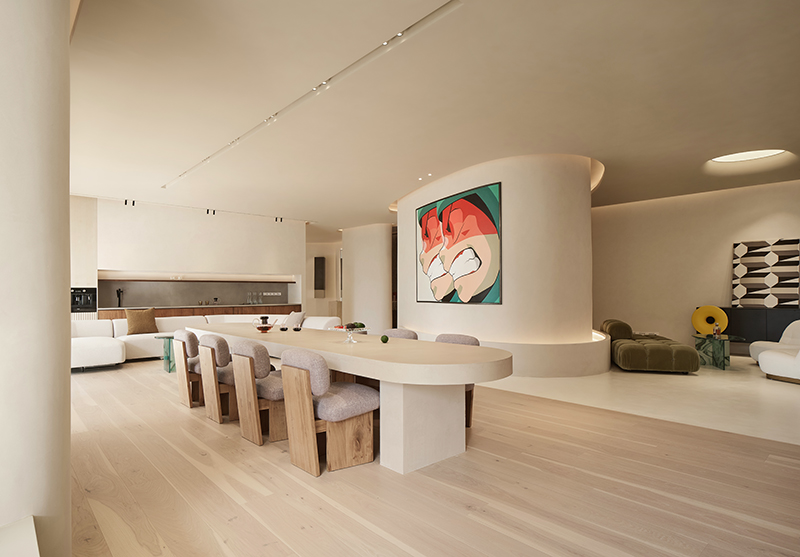 二层是一个集展示、洽谈、方案汇报、答谢活动、品茗于一体的多维空间。阳台长廊的外围是一排高大的银杏树,夏秋时节会成为这里最美的风景。随着商业模式的变化,这种多维空间式展厅设计思路已经成为新商业模式必不可少的配置。
The second floor is a multi-dimensional space integrating exhibition, negotiation, scheme report, appreciation activities and tea tasting. The balcony corridor is surrounded by a row of tall ginkgo trees, which become the most beautiful scenery in summer and autumn. The business models are constantly changing, and this kind of multi-dimensional exhibition hall design idea has become an essential configuration of the new business models.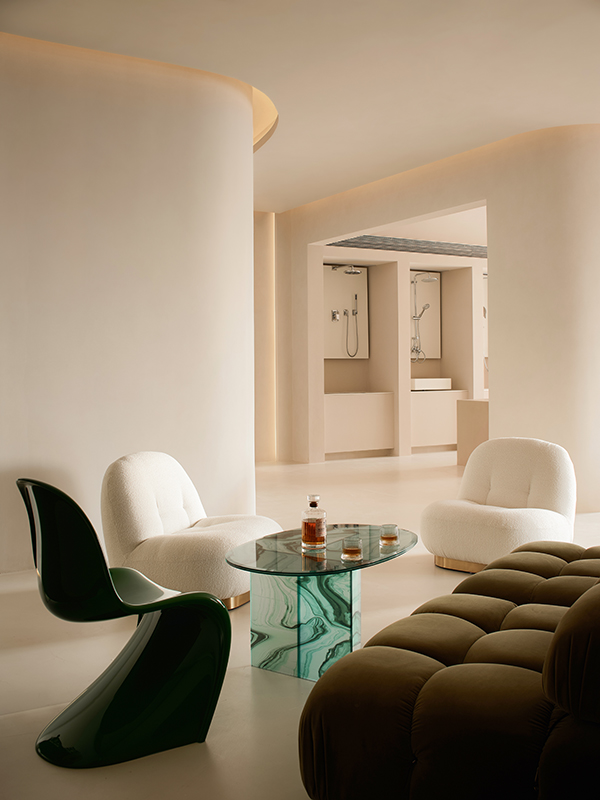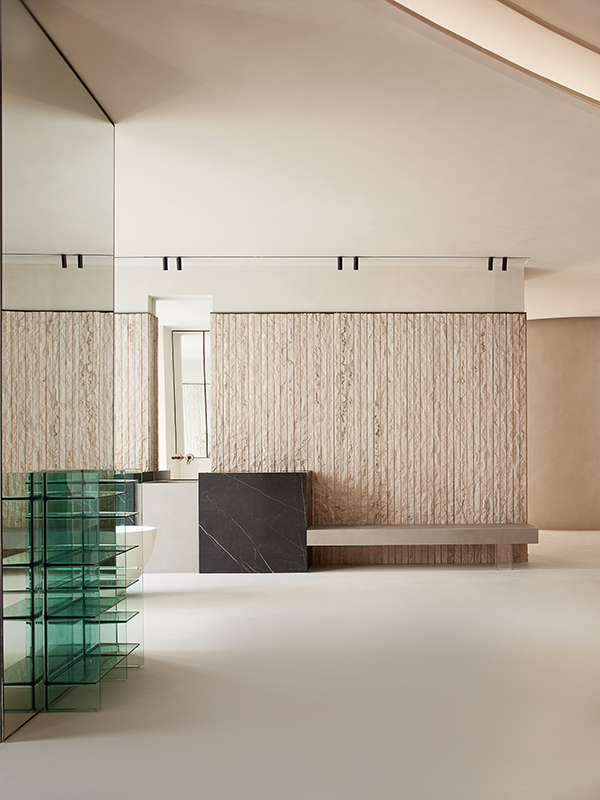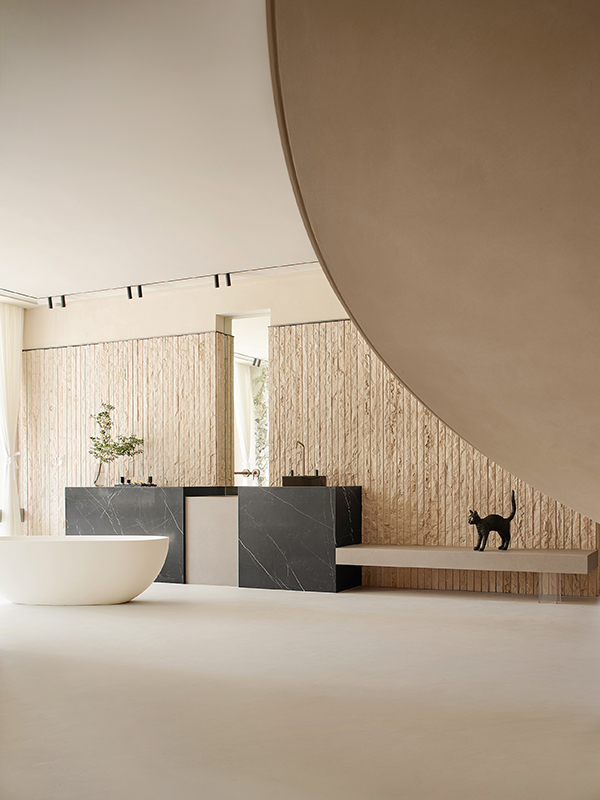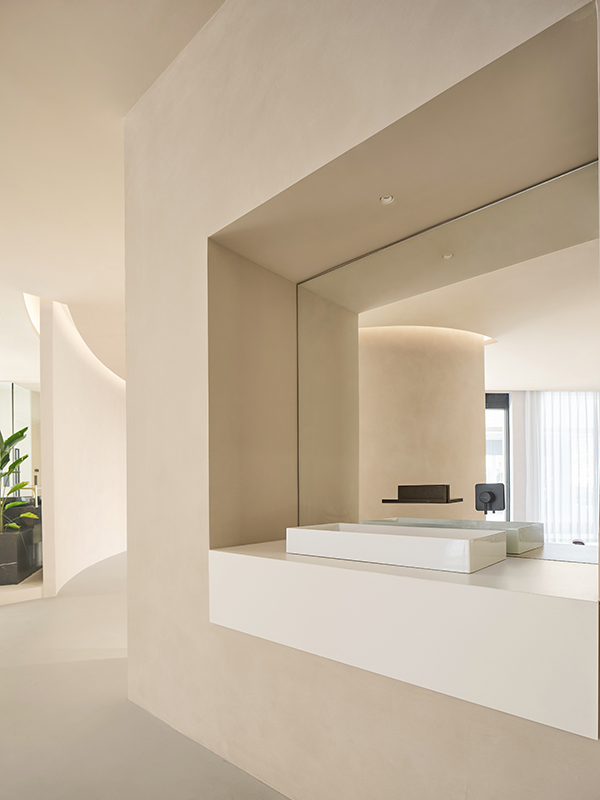 选品展示
Display of products
展厅的核心是展示产品,所以,一个展厅的设计必须符合它的产品定位、气质、格调,甚至它的形态。但是空间是有根由的,它是生长在这片土地和建筑当中的,设计师必须要找到一个平衡点,既能呈现产品的特性,又能符合空间原有的骨架,让空间设计为产品服务,成为连接产品设计者与消费者的桥梁,表达产品设计的价值并引领消费者。
The core of an exhibition hall is to display products, so the design of an exhibition hall must conform to its product positioning, temperament, style, and even its form. However, a space has its own origin, and it is closely integrated with the land and architecture. Designers must find a balance point in order to present the features of products, conform to the original framework of space, make space design serve products and become a bridge connecting product designers and consumers, as well as express the value of product design and guide the consumers.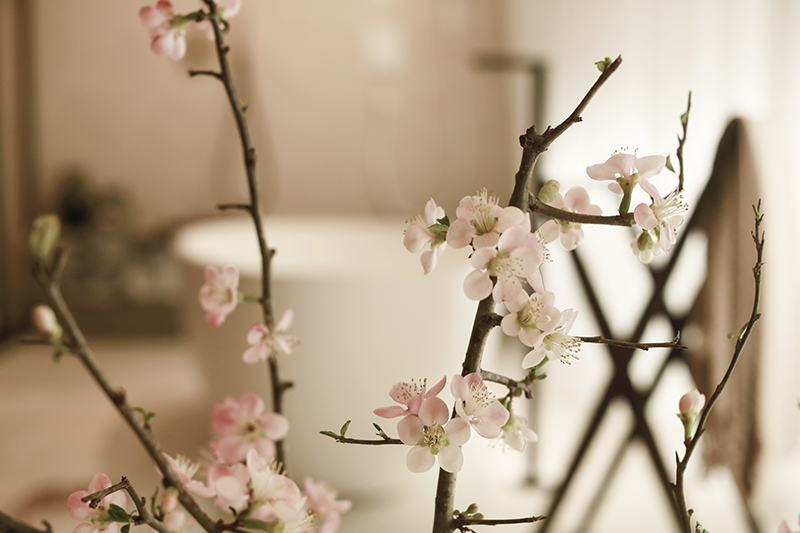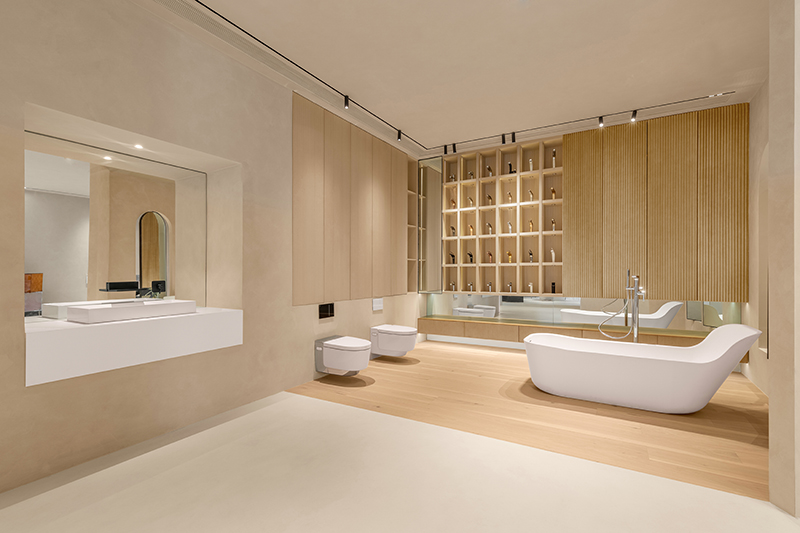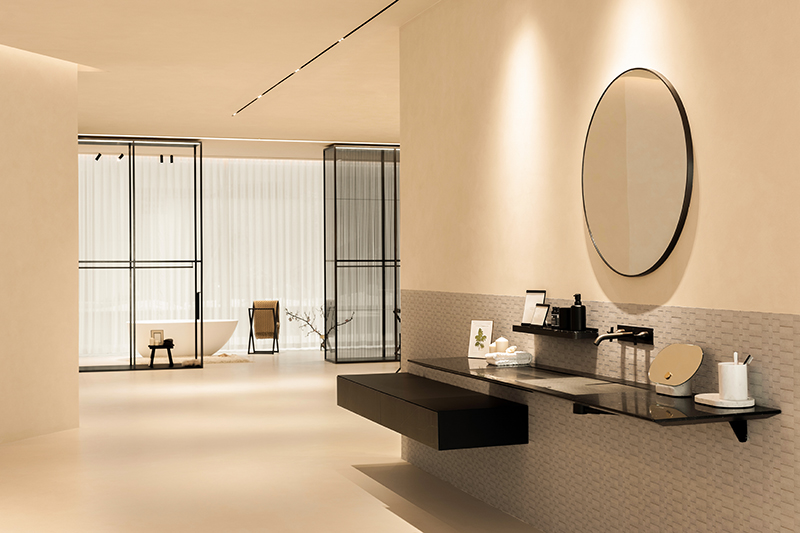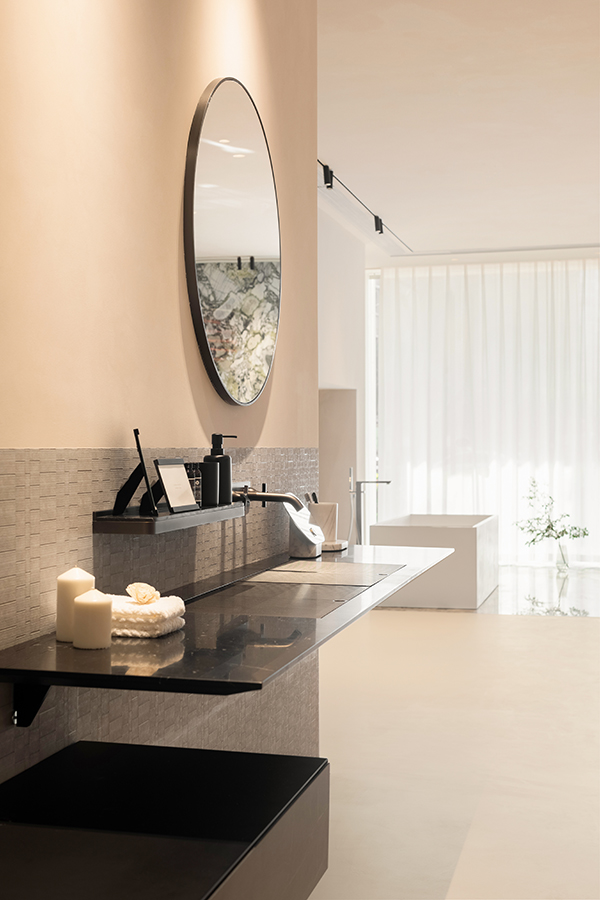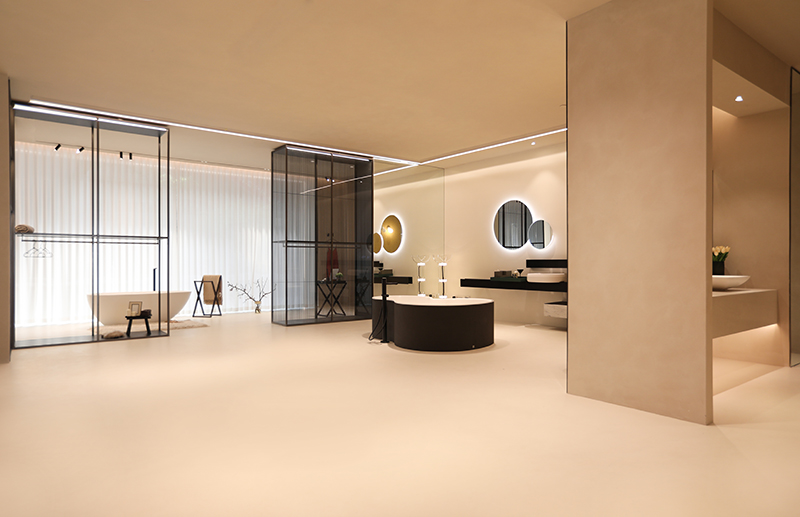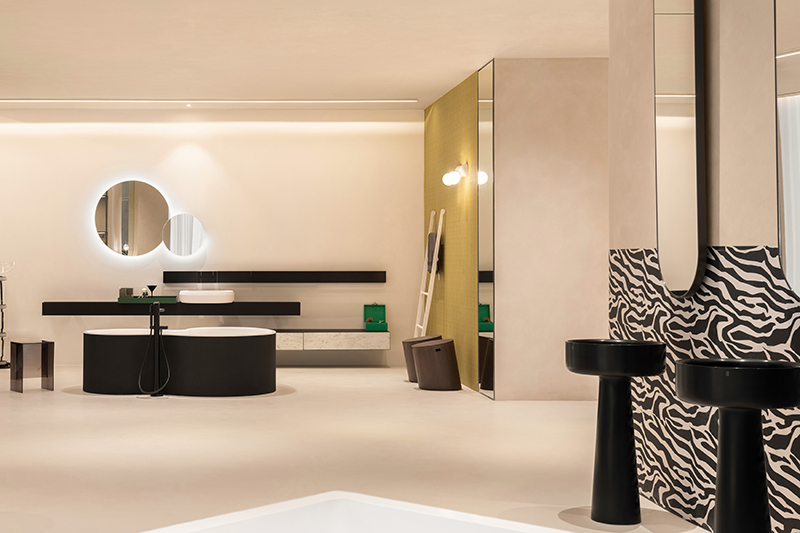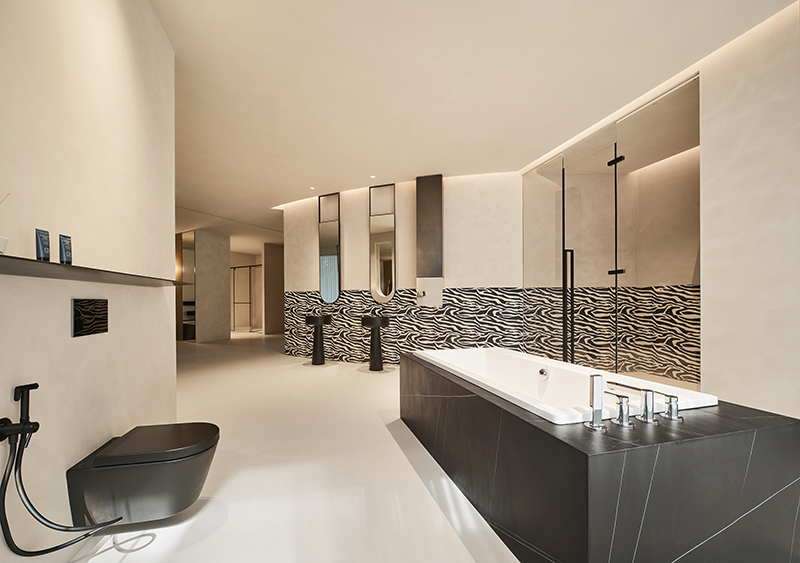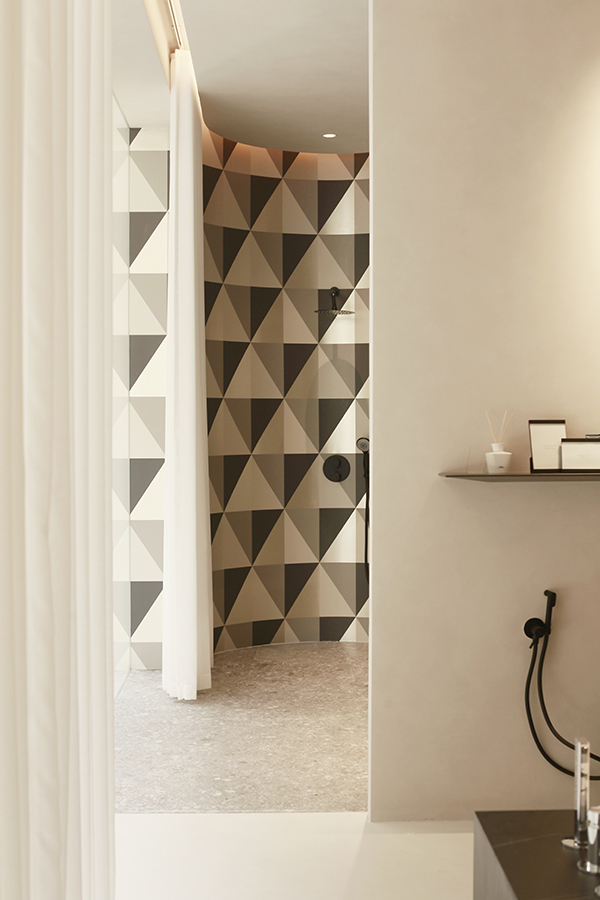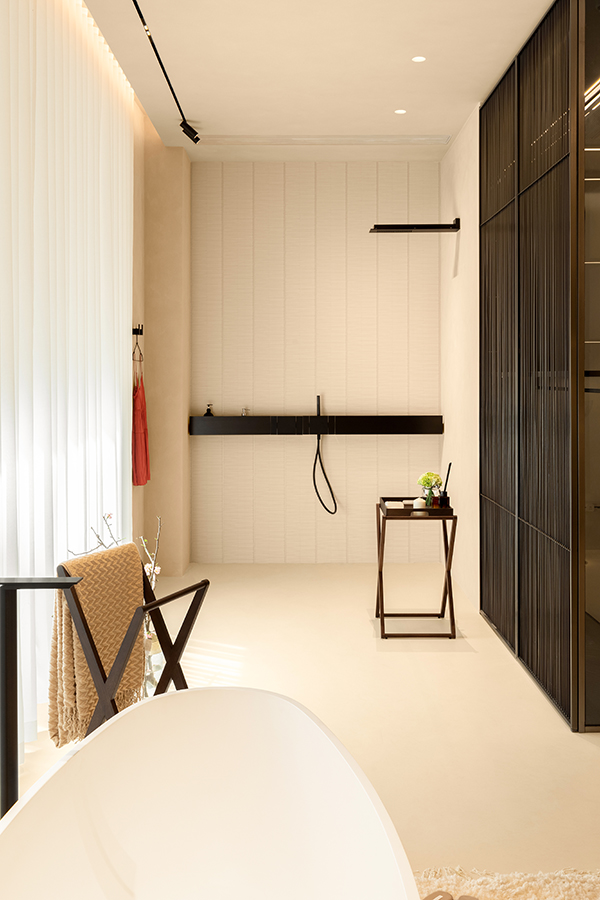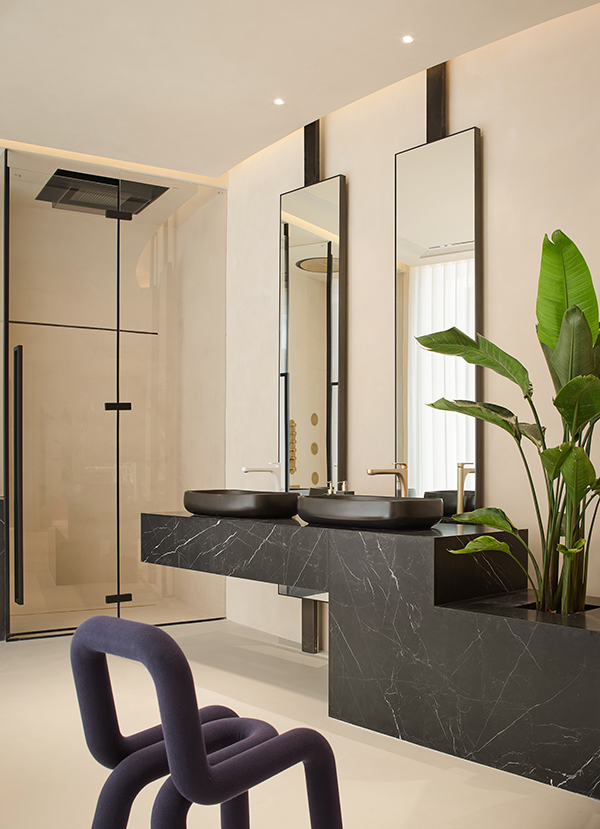 应用效果
 Application effect
Agape展厅投入之后,销售人员在邀约客户时,也因空间的美好更加积极主动,展厅给了他们更大的自信与从容。他们可以邀请客户来参观、品茗、交流……而不再像以前那样,需要花更多时间想办法留住客户匆匆离去的脚步。
After the opening of the Agape exhibition hall, the beauty of the space makes salespeople become more willing to in invite clients, because the exhibition hall gives them more confidence and ease. They can invite clients to visit, drink tea, chat… They don't have to spend as much time trying to retain customers as they used to.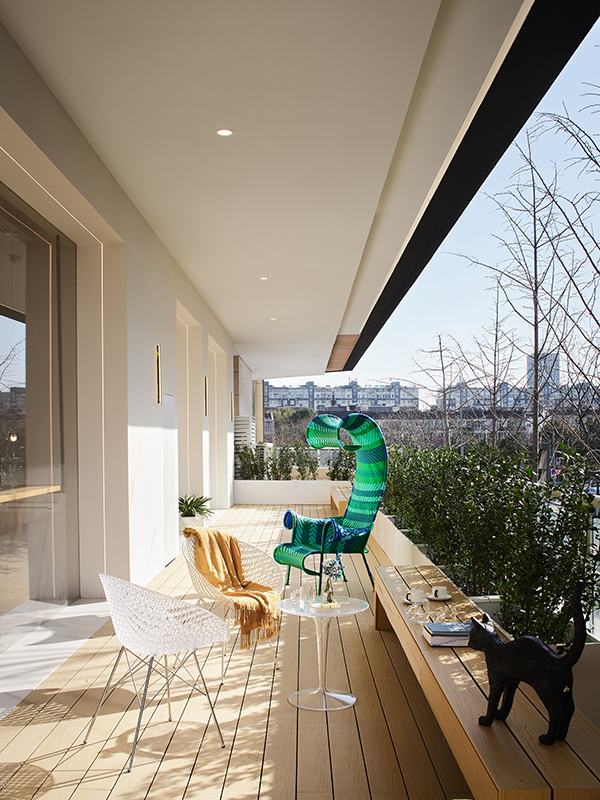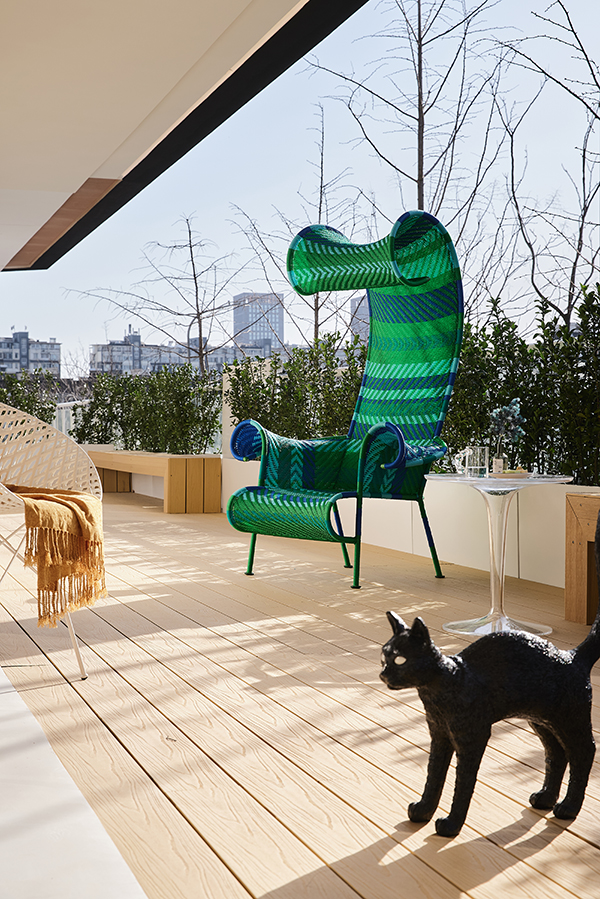 唐森林先生说:好的设计是有价值的,正如美的空间一定是能感染人的。我们希望Agape集合展厅不仅能在商业领域帮企业提高客户满意度,提升签约率,更希望它能够成为人们未来生活的灵感的缪斯。
According to Mr. Tang, a good design is valuable, just as beautiful space must be able to resonate with people. We hope that the Agape exhibition hall can help enterprises improve customer satisfaction and contract signing rate in the business field, and we also hope that it can become the Muse of inspiration for people's future life.
项目信息
Information
项目名称:Agape宁波集成展厅
Project Name: Agape Ningbo Integrated Exhibition Hall
业主:宁波世纪乐家贸易有限公司
Client: Ningbo Century Lejia Trading Co  Ltd
设计机构:境唐室内设计事务所
Design Firm: JT INTERIOR DESIGN
主案设计:唐森林、刘婧
Chief Designer: Senlin Tang、JingLiu
文案编辑:叶建荣
Editor:  Jianrong Ye
项目地点:浙江宁波
Project Location: Ningbo, Zhejiang
项目面积:1400平方
Project Area:1400 sqm
主要材料:不锈钢、岩板、意大利VALPAINT瓦帕茵特艺术漆、定制木地板等
Main Material: stainless steel、sintered stone panel、Italian Valpaint artistic paint、bespoke wooden flooring etc.
设计时间:2021年6月
Project Design Duration:June 2021
完成时间:2022年1月
Project completion date:  January 2022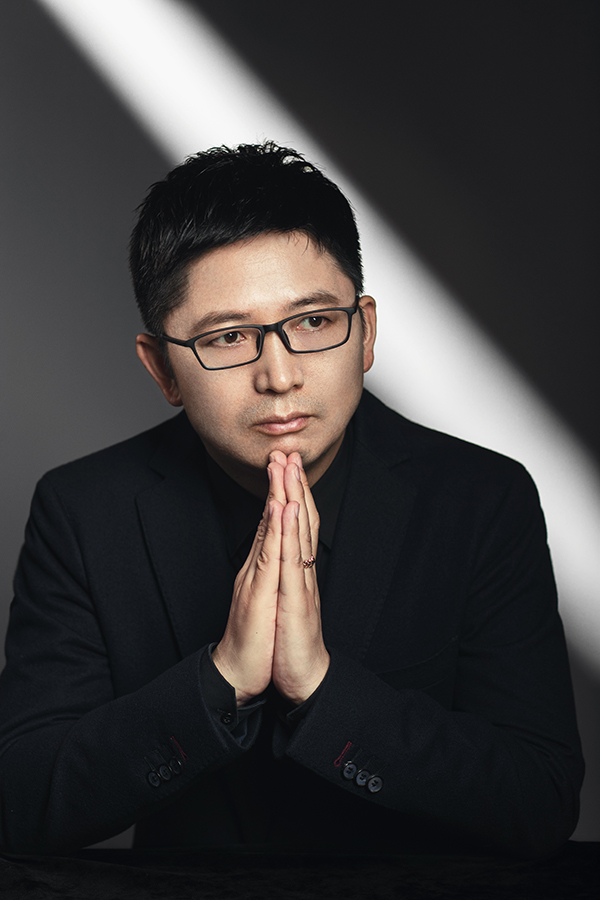 境唐室内设计事务所 由创始人唐森林先生和刘婧女士于2020年成立。工作室致力于将用户体验的完整性和舒适性至于设计的核心,发现并引导生活的艺术,为空间营造出纯粹,温暖平静的美学力量。
其灵感来源于他们的旅行、艺术、丰富的设计与管理经历以及对自然无限的热爱。作品细腻有温度,同时专注于工艺细节。由于对永恒的现代风格充满热情,他们的每个项目都带来了全新的视野,构造简约极致境界。
JT INTERIOR DESIGN was founded in 2020 by Mr. Tang Senlin and Ms. Liu Jing. The studio is committed to regarding the integrity and comfort of user experience as the core of design to discover and guide the art of living and create a pure, warm and peaceful aesthetic power for space. 
The inspiration comes from their travel experience, artistic accomplishment, rich experience in design and management, and infinite love for nature. Their designs are delicate, warm and attentive to craftsmanship. With a passion for timeless modern style, each of their projects brings a new vision and creates a simple and extremely wonderful artistic conception.