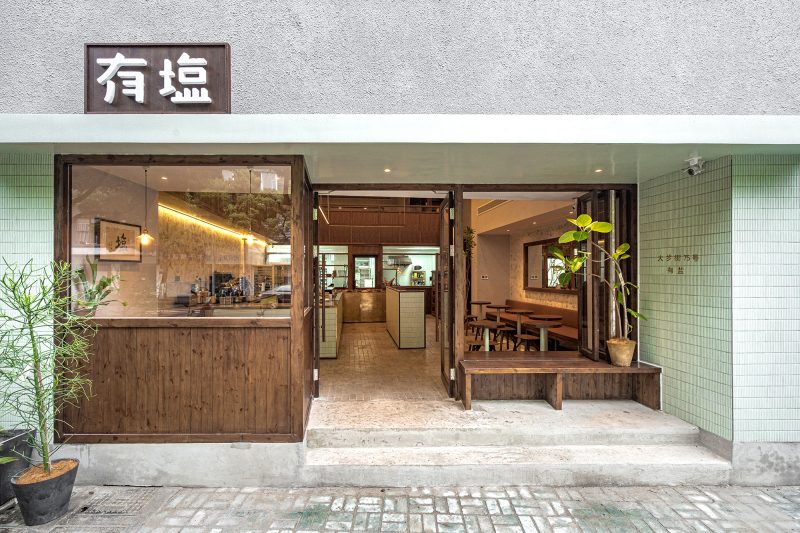 有盐是受到日本美学影响的一间法式面包店,由受过日本面包训练的一对当地夫妻经营,力求给宁波带来新鲜口感的产品。店铺坐落于宁波的住宅区域,这次对店铺的室内及外立面作出一次全新的重装。店铺的主人每天亲自在店里烘培面包,他想要创造出一个可以提供高质量产品并可以让周围的人们进行社交的一个独特的空间。
A French bakery inspired by a Japanese aesthetic. This authentic bakery in Ningbo is run by a local couple whose Japanese bread training brings a refreshing twist to their flavours and products.
Located within an established residential area, this neighbourhood bakery undertook a complete refresh of their interior and façade. The owners, who bake daily onsite, wanted to create a unique space for people to come and hang out while continuing to provide the neighbourhood with a quality product.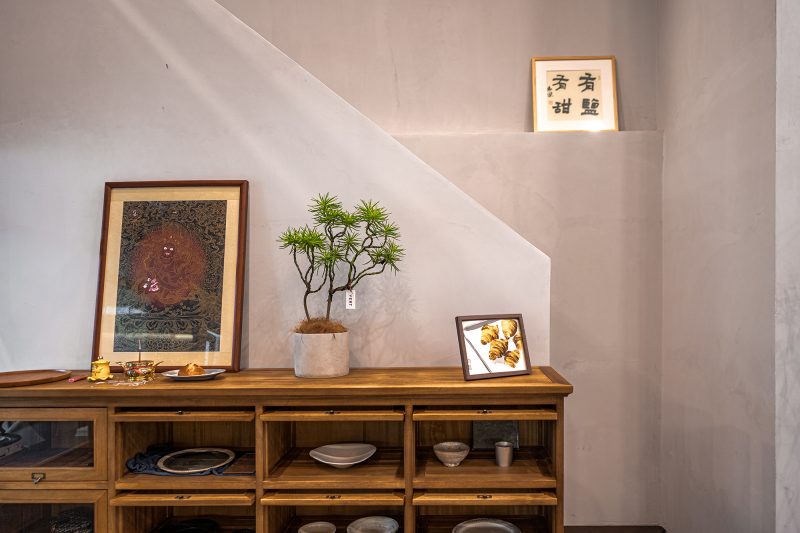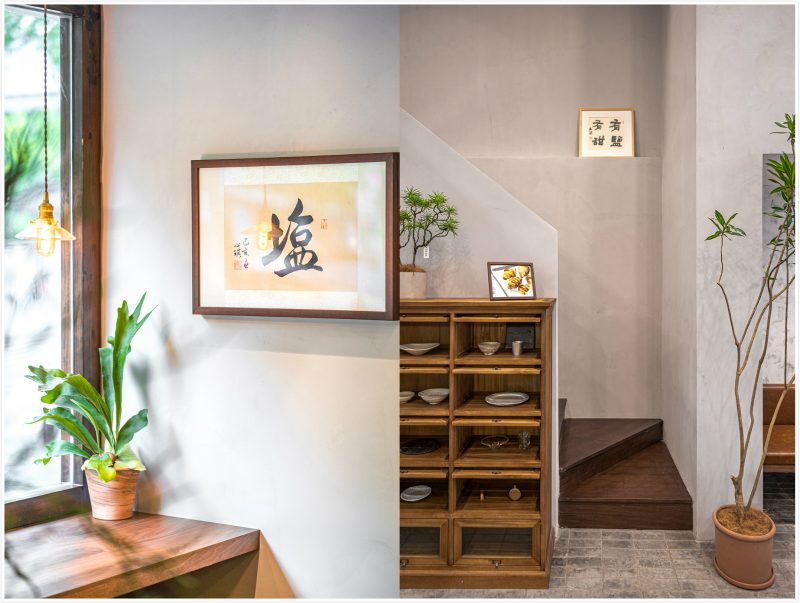 外立面简单地使用浅灰色石膏、灰绿色瓷砖和极简白色标牌,突出现代和极简的特点,使店铺显得与周围的环境与众不同。暖色木框玻璃的厨房隔墙使客人能直接看到面包店的厨房空间。店主喜欢日式极简的中世纪家具,使整体设计走向变得简单和干净,使空间的重点变成产品本身。
Keeping it modern and clean-lined, the façade is simple with light grey plaster, pale green tiles, and minimal white signage, allowing it to stand out from the adjacent local stores. Warm coloured, wooden joinery opens to the street, allowing views straight into the working area of the bakery. The owners love of mid-century furniture and Japanese minimalism guided the design's simplicity and clean-lined style. This restraint helped us to create a space that was consistent and well-integrated, giving greater focus to the product.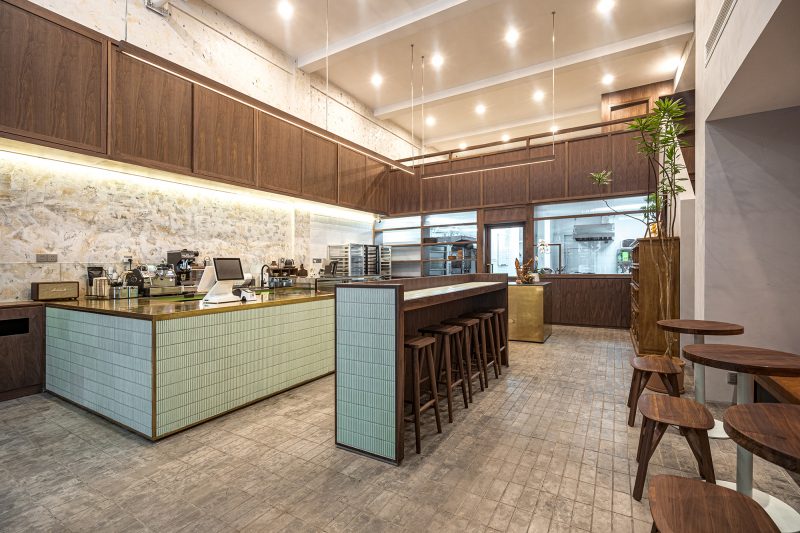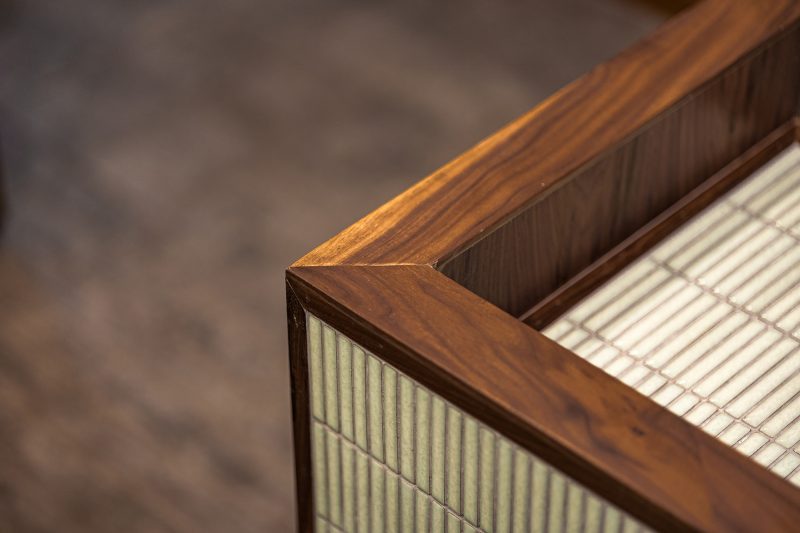 设计师想通过使用温暖柔软的材料来平衡坚硬做旧的元素,创造出一个舒适的令人愉悦的空间。 深色胡桃木、精致的黄铜和做旧的混凝土墙面作为面包产品展示的背景,给空间带来了肌理感。
It was important to retain a simple material palette that balanced the hard, distressed elements with softer, warm colour, creating an environment that was inviting and comfortable for people to enjoy. Rich walnut, antiqued brass and distressed concrete walls give a rustic and textured backdrop to the authentic bread products made here.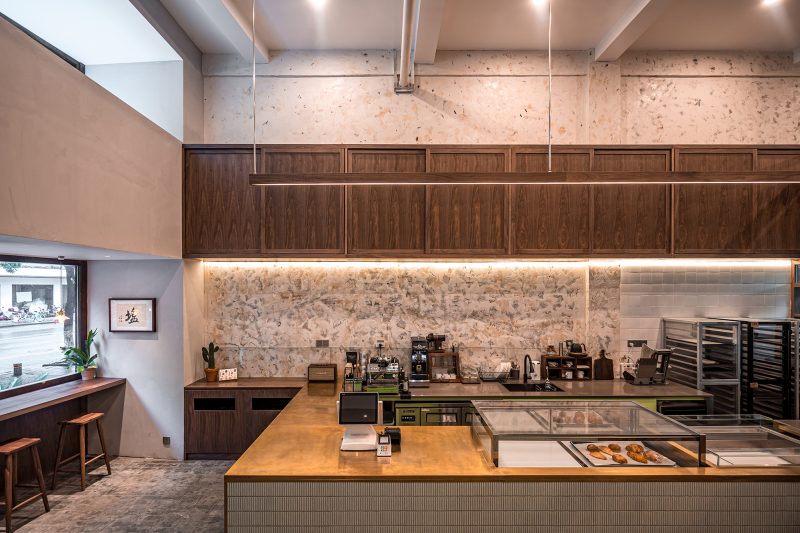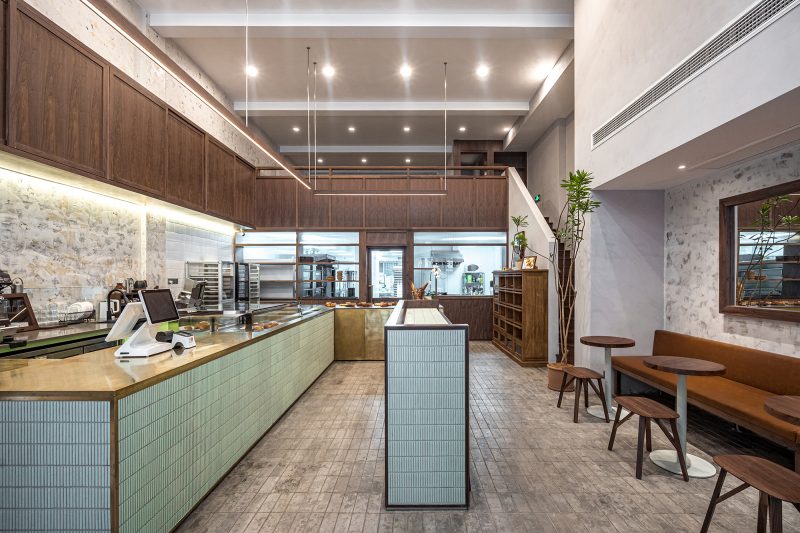 对于客户来说,从顾客空间能看到面包烤箱和面包产品是至关重要的。Hcreates打开空间的中央,使空间变得通透明亮。 设计上的最大挑战是后期面包烤箱可能需要在不破坏装修本身被移出进行维护,设计师将厨房的墙、层板、前方的展示柜都做成可移动的。面包产品被整齐地展示在长形柜台上,使顾客能从街道直接被吸引进店铺。
It was crucial for the client that the bread oven and product was visible from the customer space. hcreates opened the middle of the space to allow views down and into the production areas with counter and seating along the sides. One of the challenges involving the bread oven was being able to move it in and out, without having to break down any of the fit-out. To address this within the narrow shop space, hcreates made the kitchen wall, shelving, and front of house display counters, all easily removable. The product display required each item to be laid out in a row, this made for a long display counter which we placed at the end of the space allowing visibility from the street.
现有的店铺具有通高的双层空间,这给设计带来了很多可能性。设计师在外立面使用了大型折叠窗连接室内外空间,窗子的两侧都设置了座位。现有的夹层被延申出来,变成了一个顾客可以安静用餐的小角落。利用现有的高度,设计师在外立面上方开了个天窗,使自然光线可以穿透进空间,给空间带来明亮的氛围。
One of the unique existing features was the double-height space. This allowed for impactful design over the counter and an uplifting entry experience. Large folding windows at the front open the façade and connect to the small front terrace creating seating on either side. The existing mezzanine was reconfigured to extend the seating, creating a cosy nook for customers to people watch from above or enjoy a quiet corner. Using the height, hcreates opened more windows in the façade allowing light to filter in, creating an atmosphere filled with beautiful, natural light.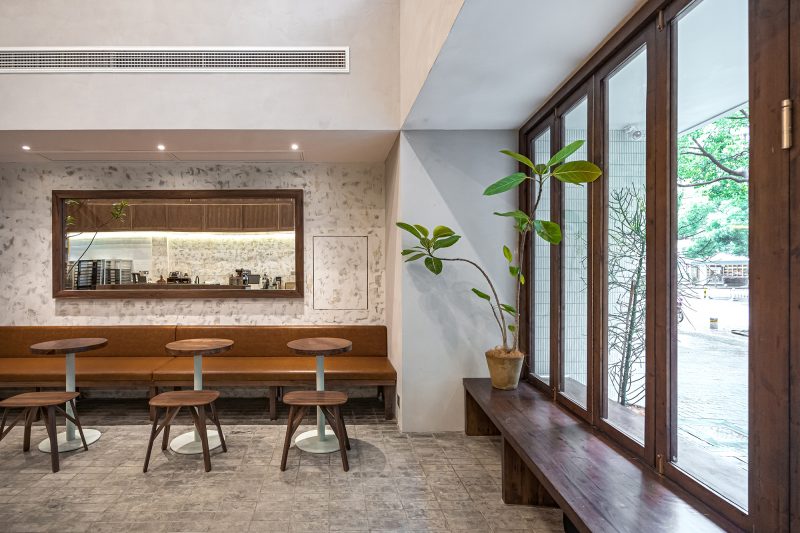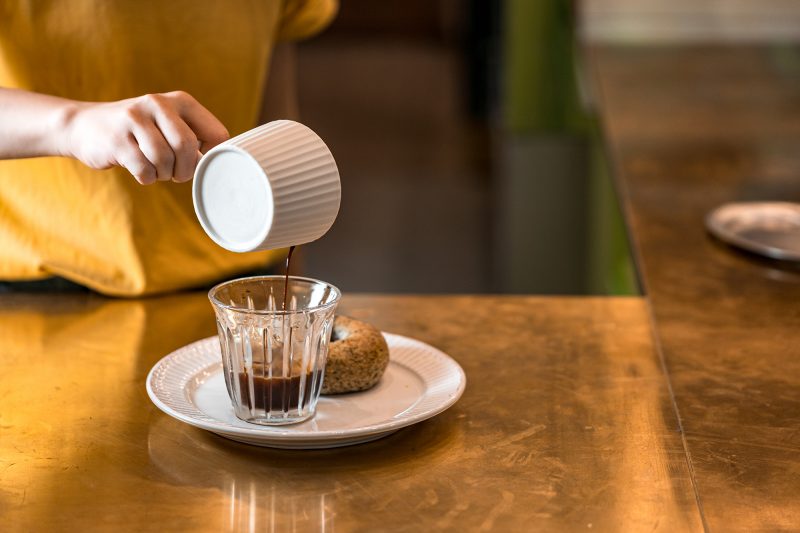 *文字图片由Hcreates提供
项目信息 / Project information
Project name 项目名称: 有盐
Design Firm 设计公司: hcreates
Lead Designer 主设计师: Hannah Churchill
Size in sqm 面积: 132 sqm
Location 位置: Ningbo
Completion year 完成年份: 2020
Photography 摄影师: Graeme Kennedy
关于事务所 / COMPANY PROFILE
hcreates是一家于2010年成立于上海的室内设计咨询工作室。设计项目主要位于中国大陆,并逐渐扩展到亚洲其他国家和地区。事务所与理念相近的客户合作,通过提供激发视觉及感官的室内设计方案,增加环境的潜力。hcreates以设计现代时尚的餐厅和酒吧闻名于上海设计业,并持续扩展在办公室、健康和保健行业的业务。其设计哲学来自于新西兰人的创造力、革新和实用精神的结合。设计就该是简单、有趣和聪明的。
事务所很荣幸被列入安邸中国AD100榜单,近年来其设计作品被Interior Design、Residence等多家国内外杂志发表。
hcreates is an interior design and consulting studio based in Shanghai, designing projects across China and increasingly across Asia since 2010. The practice works with like-minded clients to achieve spaces that are designed to enhance one's environment and leave people feeling stimulated and inspired. Well-known in Shanghai for creating contemporary restaurants and bars, hcreates continues to develop a significant portfolio of office and health and wellness spaces too. Its design philosophy comes from an ingrained sense of kiwi ingenuity, innovation and practicality. Design should be simple, fun and clever.
The firm is honored to have been included in the AD100 by Architectural Digest China and featured in local and international magazines such as Interior Design, Residence and many more.
创始人介绍  / Founder Introduction
Hannah Churchill来自新西兰南岛,作为一位室内设计师,她对一切创新的东西都充满了激情。从惠灵顿维多利亚大学建筑系毕业后,Hannah在新西兰一家著名建筑公司开始了自己的工作生涯。2009年她来到上海,在扩展视野的同时,很快开始独立承接项目,于2010年创立hcreates。热爱旅行的她常常会在不同的文化和社群中找到新的设计灵感。在中国的十年里,Hannah设计完成了上百个项目,其中包含了一些颇具影响力的餐厅和酒吧。如今,她带领hcreates团队继续在办公、健身房、瑜伽馆和医疗中心等生活方式空间的领域中探索。
Hannah Churchill is an interior designer with a passion for all things creative, hailing from the South Island of New Zealand. After working at one of New Zealand's top architecture firms, Hannah moved to Shanghai in 2009 to broaden her horizons and began working on her own independent projects, founding hcreates in 2010. Since then, wherever she travels, different cultures and communities expand and influence her design ideas. With a decade of design experience in China, Hannah has crafted more than 100 spaces with an impressive collection of Restaurants and Bars. Hannah continues to expand her portfolio in workspace design and lifestyle spaces with gyms, yoga studios and medical practices.